Floor Cleaning in Clovis, CA
Clovis Floor Cleaning is Hard Work
Keeping your Clovis, California floors clean is tough work! Cleanup Man can remove your floor cleaning headaches (and backaches!) We have been providing professional Clovis floor cleaning services since 2008. Say good-bye to tedious mopping and scrubbing and reclaim some "me time"! Let Cleanup Man do the tough work for you. Our Clovis floor cleaning experts will make sure to clean every inch of your floor, leaving nothing but shine. Don't wait, call (559) 238-7789 and find out why Cleanup Man offers the most meticulous floor cleaning Clovis has seen!
Cleaning Clovis Stone Floors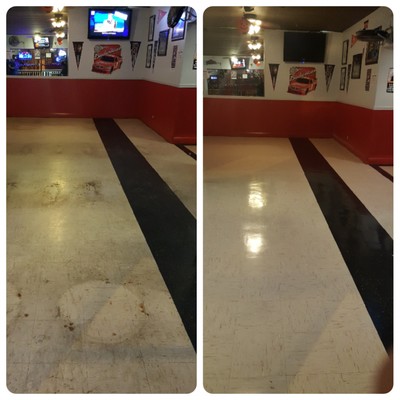 Cleanup Man is experienced in all types of Clovis floor cleaning. One of our specialties is Stone Floor Cleaning for Clovis, CA residents. Our we really understand stone floor cleaning, and have the experience and know how to make your stone floors shine. For a deep Clovis stone floor cleaning, look no further. We'll use our special buffing machine to remove build up, and a chemical free cleaning process that will render your floors spotless, all while protecting children and pets.
Other Type of Floor Cleaning in Clovis:
Hardwood Floors
Tile and Grout
Laminate Floors
Vinyl Floor Cleaning
Clean Marble Floors and Countertops
Linoleum Flooring
Stone Floor Care and Cleaning
Clovis Floor Cleaning For All Surfaces
Cleanup Man is experienced in cleaning a wide variety of flooring surfaces, and we'll match the product to the surface to give the most effective floor cleaning. For wood floors cleaning, Clovis homeowners call on Cleanup Man to use our proven techniques to bring back the beautiful luster. For a Clovis tile floor cleaning, we utilize a cleaning solution that works best for grout and tile cleaning, so that stains and dirt will be thoroughly removed. To remove scuffs and clean laminate flooring, Clovis homeowners rely on Cleanup Man's proven methods, which leaves their floors sparkling clean. Call Cleanup Man today for a free estimate and find out why we're Clovis's preferred floor cleaners!
---
Call for Fast FREE Quote
Dial Area Code first please.
---
WHAT CUSTOMERS ARE SAYING:
5★★★★★
Home Owner, Carpet Cleaning in Clovis, CA
2019-10-14
---
5★★★★★ - "They did a very good job on my carpet. It smelled fresh and looked clean. They were out of the scotch guard I wanted. They said they could come back and spray the walk area, but I am unable to move the furniture by myself due to pinched nerves in my back. I would want it sprayed all over not just in the walk areas. They were very nice and friendly."
Tammy Tanu, Carpet Cleaning in Clovis, CA
2019-09-11
---
5★★★★★
Home Owner, Carpet Cleaning in Clovis, CA
2019-08-16
---
5★★★★★ - "Friendly and professional staff! Carpets came out great!"
Jennifer Lea, Carpet Cleaning in Clovis, CA
2019-08-01
---
3★★★☆☆ - "Excellent and professional service at reasonable prices. My tile looks brand new and I would absolutely recommend them to family and friends."
Christina C. in Clovis, CA
---
5★★★★★ - "I was extremely satisfied with the outcome of my carpet. The technician took the time to explain what needed to be done in some of my high traffic areas. I would recommend this company to everyone..."
Anonymous in Clovis, CA
---
5★★★★★ - "Did a great job!!! There was a water spot left, when I called, they came back within couple of hours. Great service!!"
Jarnail D., Floor Cleaning in Sanger, CA
2019-09-11
---
5★★★★★
Ray Meyers, Commercial Cleaning in Fresno, CA
2019-10-14
---
5★★★★★ - "I just wanted to say you did an awesome job on my carpets. Thank you and express my appreciation for a job well done. 👍"
Laura C., Carpet Cleaning in Madera, CA
2019-09-11
---
5★★★★★
Home Owner, Cleaning Service in Oakdale, CA
2019-08-16
---
5★★★★★
Home Owner, Deep Cleaning Services in Fowler, CA
2019-08-01
---
5★★★★★
Bambi Wright, Carpet Cleaning in Fresno, CA
2019-08-01
---
5★★★★★ - "We are a family in Madera, and we absolutely loved the service he provided for us! He did a wonderful job, and took his time to make sure it was done right. Very decently priced! We will definitely use this company again."
Robin Nino, Carpet Cleaning in Madera, CA
2019-08-01
---
5★★★★★ - "Antaiwn and the staff from The Cleanup Man did a remarkable job cleaning old carpeting that would otherwise have had to be replaced. I didn't have high expectations after my experiences with other carpet cleaning firms. The Cleanup Man got out All the stains and smell, giving the entire house a clean, bright feel. I chose their Platinum option; it was the right choice for this old house. They have quite an involved process that includes placing corner protectors so their hoses don't damage walls. They pre-treated; put down pet stain and odor removal products; vacuumed that treatment out then cleaned, both rotary and steam, the carpet. WOW!! Did I mention they did the same for some sofas and chairs? All with the same excellent results. The entire crew were hard-working, professional, polite and friendly. They explained their process and happily answered all my questions. I opted for their 6-month cleanup program and look forward to their return. I HIGHLY RECOMMEND this company. Thank you all, gentlemen!"
Robin Brown, Carpet Cleaning in Selma, CA
2019-08-01
---
5★★★★★ - "Great service! Kevin did a great job with our service! Our carpets look amazing"
Yolanda C., Carpet Cleaning in Madera, CA
2019-03-21
---
5★★★★★ - "Consistent, on time, friendly, informative, will be doing business again. My carpets look great brought them all the way back to life"
Nicole N., Carpet Cleaning in Fresno, CA
2019-03-11
---
5★★★★★ - "They do a great job I been using them for years they clean my store and restaurant they clean my carpets and strip and wax the floor. I RECOMMEND cleanup man to clean your place."
Mercillina O., Retail Cleaning in Fresno, CA
2019-03-11
---
5★★★★★ - "The Cleanup Man guys did a great job on my carpet. They were friendly, courteous, and professional. PLUS they kicked it up to the more thorough cleaning Gold Deal just for writing this review! There's more! They'll come back in 6 months and do it again for half price!"
Dan L., Carpet Cleaning in Fresno, CA
2019-03-11
---
5★★★★★ - "Antaiwn has worked for me in both the commercial and residential settings. His commitment to his craft is impeccable and he will never leave a job until it is done exactly to the customer's satisfaction. I would highly recommend any of his services to whatever your needs may be. He also is a great guy, he sat with me on my driveway for 3 hours on Halloween and helped pass out candy to the neighborhood kids. Bravo!!!"
Jeff L, Commercial Cleaning in Fresno, CA
2019-03-11
---
5★★★★★ - "I was highly pleased with Cleanup Man services a friend had recommended them I had a client that had recently moved and needed her carpets to be cleaned so she can get her rental deposit returned. And yes client received her entire rental deposit. Satisfied Customer"
Amazing Star, Carpet Cleaning in Fresno, CA
2019-03-11
---
5★★★★★ - "The cleaning men's was very nice and got all the stains out my carpet fast."
Catera J, Carpet Stain Removal in Fresno, CA
2019-02-25
---
5★★★★★ - "Kevin and Desmond did a great job at our place. Was able to get the smell out of the rooms. Very professional and friendly. Took the time to explain everything they were doing and prices were fair. Would highly recommend using these guys."
Bryan A., Carpet Cleaning in Fresno, CA
2019-02-25
---
5★★★★★
Matt G., Commercial Carpet Cleaning in Fresno, CA
2018-11-14
---
5★★★★★
Chris K, Carpet Cleaning in Hanford, CA
2018-11-07
---
5★★★★★ - "I want to thank Kevin R. and his son for the stupendous job they did cleaning our carpet. I had given up on it ever looking halfway decent. But to my delight, they restored it to its former beauty! Thank you again for the skill and professionalism you exhibited!"
Bonnie D. in Fresno, CA
2018-07-05
---
Shawn, Floor Cleaning in Fresno, CA
2018-01-24
---
5★★★★★ - "Crew was professional and courteous. Work was done fast, and my carpets look and smell great despite previous stains and odor. I have already recommended Clean Up Man to friends and coworkers."
Antoinette
---
5★★★★★ - "They arrived on time, and spent over 3 hours doing a great job. My carpets look and feel clean!"
---
5★★★★★ - "Professional, friendly, thorough, and excellent work. I will be a repeat customer and feel confident in recommending Antaiwn's company to my friends."
Toni
---
5★★★★★ - "Cleaned my carpet really well."
homeowner
---
5★★★★★ - "Great job"
Alex Catanesi
---
5★★★★★
Raquel Overall in Fresno, CA
---
5★★★★★ - "They made my 15 year old carpet look better than it has in years! I usually rent a machine but, the clean only seems to last a week. It has been a month since Cleanup Man has been here and the carpet still looks good. Very friendly staff and quick."
Natalie Berg, Carpet Stain Removal in Madera, CA
2016-06-13
---
5★★★★★ - "Very professional & honest about what your carpet needs. Very fair pricing. I added our staircase at the last minute & they were able to make time to do them as well. Carpets look great & plan on using them again for upkeep in the future."
Jennifer Carrillo in Fresno, CA
2016-06-13
---
5★★★★★ - "Great service, very professional, and educational. I would like to recommend cleanup man carpet cleaning services to you."
Willie H., Carpet Cleaning in Fresno, CA
2016-06-13
---
5★★★★★ - "They showed up 30 mins early which was so great but I felt so bad because I kept them waiting . So A+ for that.! And my carpet looked so great after they were so done. So many spill stains and foot track and it's like it was never there."
Molika I., Carpet Cleaning in Parlier, CA
2016-06-13
---
5★★★★★ - ""
Floor Cleaning at a restaurant
2016-06-10
---
---
---
Call for FREE Floor Cleaning Quote
Dial Area Code first please.
---